Replacement of the 120 year old grey cast iron drinking water main (Long pipe relining)
The planning, construction and operation of the 1,235 km long drinking water network (820 km of water mains and distribution pipelines plus 415 km of domestic service pipelines) are down to SWM Städtische Werke Magdeburg GmbH & Co. KG. Close to half of the drinking water mains and supply pipelines for Magdeburg consist of cast iron pipes which, for the majority, have been in operation for more than a hundred years. In the context of continuous renovation and/or renewal measures, SWM began rehabilitation of the main drinking water pipeline on Halberstädter Straße in summer 2018 on a section about 1,000 m long.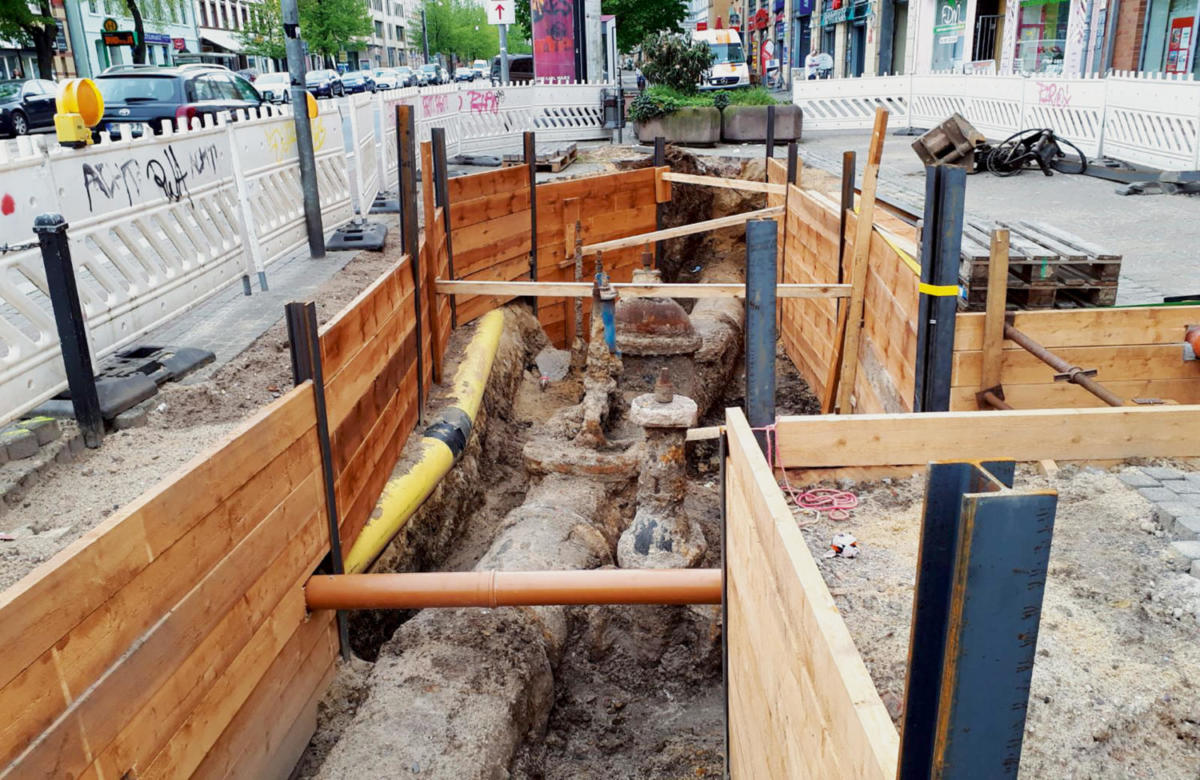 After 120 years of operation, the DN 700 grey cast iron pipeline is in a very passable state of maintenance.
An old pipeline in modern surroundings
The key data for this existing pipeline are as follows:
Year of construction: 1897 and in operation ever since
Material: grey cast iron (GG)
Nominal size: DN 700
Pressure stage: PN 10
Condition: ageing damage as a result of spongiosis and increasing incrustation
Location: beneath the pavement
Depth:  on average at approx. 2 m
The Halberstädter Straße is a major and busy arterial road running North-East to South-West with tram rails, two to four traffic lanes, bus traffic, cycle ways and wide pavements which are lined with shops, cafés and restaurants. Also there is an extensive stand of old trees in the immediate area of the drinking water pipeline to be renovated. So it was important to take account of traffic and environmental technology concerns as well as obstructions/incursions for shops and residents and keep these to a minimum.
Decision in favour of the tried and tested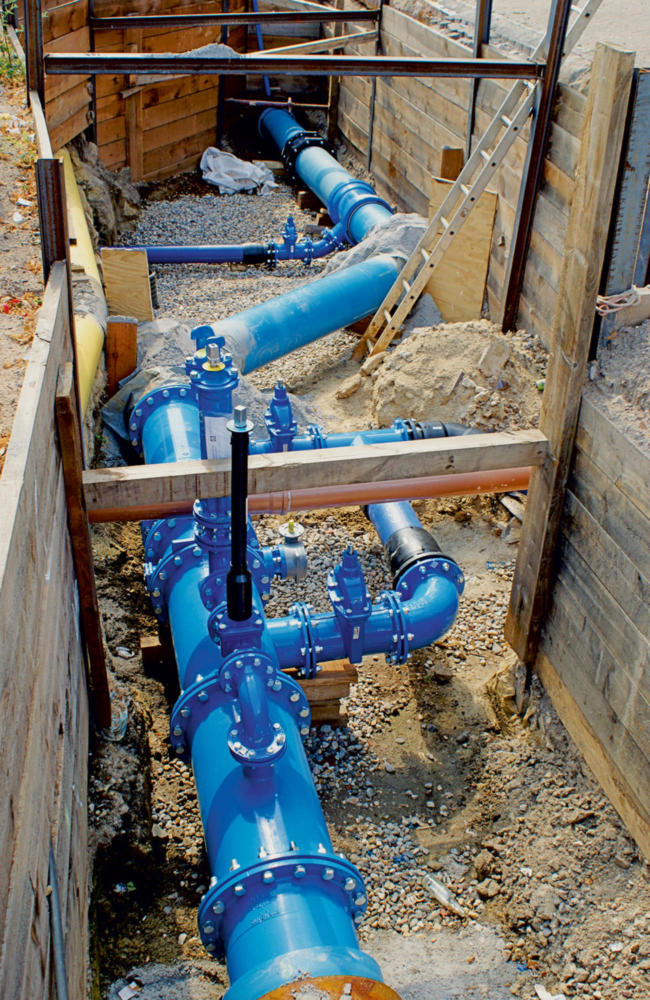 From time to time it was necessary to integrate valves and hydrants as well as branches and connections by open-trench installation.
The planning carried out in the previous year provided for a reduction of the pipe diameter from DN 700 to DN 400 as a result of years of declining or static water consumption, as had already been taken into account and implemented in completed renovation projects. After experiences in recent years, when renovation measures were being continuously carried out on old grey cast iron pipelines in the city, once again after cleaning and after camera inspection the existing pipeline did indeed show damage (incrustations, risk of pipe ruptures), but even after 120 years of operation was nevertheless in a passable state of preservation.
It was therefore obvious, considering these underlying conditions, the nature of the area surrounding the worksite and the corresponding economic and ecological considerations, that the renovation should be done mainly using a trenchless technique. In some place however, depending on constraints, the open trench technique would have to be adopted as well, above all to incorporate fire hydrants, branches, connections and sets of valves in the pipeline. In these cases, a reduction in the minimum depth of pipe cover from approx. 2 m to 1.20 m was specified.
So, in the end, SWM opted for the long-pipe relining process for 915 m out of the total of around 1,000 m of DN 700 grey cast iron pipeline using 
 
DN 400 ductile iron pipes, standard overall length 6 m
wall thickness class K 9
pressure stage PN 10
BLS® type positive-locking restrained push-in joints
cement mortar lining and
a zinc-aluminium coating (400 g/m2) with a finishing layer of blue epoxy resin (EN 545)
For the renovation of smaller sections, pipes in different materials and dimensions have been used.
Execution: precise, safe and effective
In Spring 2018, after around a year of planning, the renovation project was commenced in two phases in terms of both location and time.
Construction pits
Because of the route of the existing pipeline, the valves installed and because of changes to the pulling-in sections (it was planned to have pulling-in lengths of up to approx. 300 m), construction pits (for both installation and pulling-through) were excavated in the pavement area of Halberstädter Straße at a distance of 150 to 280 m and between 2.0 and 2.5 m deep on average. For pulling in the pipes, a Grundoburst 800 G bursting rig from Tracto-Technik GmbH & Co. KG was used.
Pipe-pulling
The old DN 700 grey cast iron pipeline was first mechanically cleaned and then inspected by camera. The new 6 m long DN 400 pipes in ductile cast iron (GGG) were pulled in, aligned in the construction pit in each case and the BLS® push-in joints including their protection were assembled with a sheet steel cone sleeve. Using the bursting rig, the pipe string was then pulled 6 m into the old pipeline in each case, draggling on the sheet steel cone.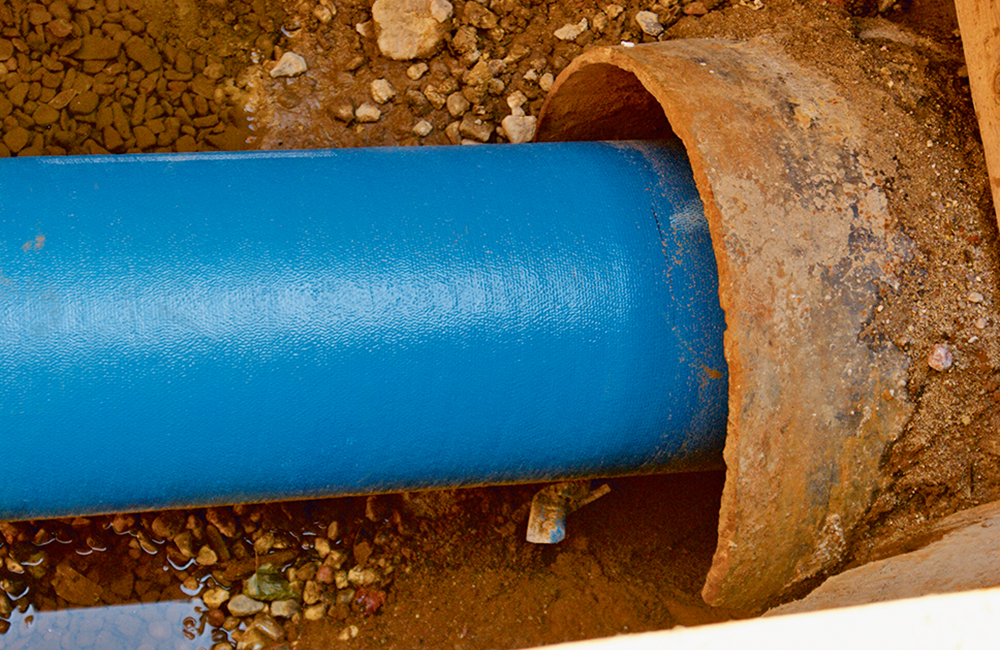 The pipe-string was pulled 6 m into the old pipeline in each case, draggling on the sheet steel cone.
Finishing work
The annular space remaining between the old pipe and the new pipe was filled with an alkaline insulating material which, according to the requirement set by SWM, had to have a shrinkage/water separation after curing of less than 1% by volume and a compressive strength of at least 1.0 N/mm2 after 28 days. The last stage of the work was the pressure testing and the subsequent disinfecting of the pipeline.
Sustainability aspects achieved
The careful planning and preparation of the project, the fine-tuning with respect to adjacent construction projects, diversion concepts, public transport requirements etc. as well as the choice of material and installation processes resulted in a successful completion of the renovation project. Numerous aspects of sustainable construction are achieved here. The most important of them are:

economic aspects
considerable reduction of civil engineering costs by the use of the trenchless relining technique
reduced costs for restoring the pavement surface
reduced restriction of traffic (traffic lane, public transport, diversions)
minimised impairment of access to the shops
fast and secure assembly of the BLS® push-in joints
high rate of installation productivity with the BLS® push-in joints
reduction of the existing pipe diameter (increasing the speed of flow and shortening the dwell time of the drinking water in the pipeline which avoid hygiene problems)
a further long working life of more than 100 years
ecological aspects
only intermittent excavations for construction pits
minimising the stoppages of private transport
short assembly times allowing fast progress of work
food-grade lining of pipes
high diffusion tightness protects the drinking water
low servicing and maintenance expense
no negative impact on the trees
technical aspects
restrained joints allow for the highest tractive forces and are therefore best suited for long pipe relining
pipes and joints allow for operating pressures up to 100 bar according to nominal sizes
installation does not need special equipment
 
Authors:
Andreas Chladek, Städtische Werke Magdeburg GmbH & Co. KG
Uwe Hoffmann, Duktus (Wetzlar) GmbH & Co. KG
The article was slightly shortened by the editors. You can find the complete article with various illustrations as a PDF in the download area under Downloads Annual Issues EADIPS FGR.