New drinking water transport pipelines for Bellinzona in the Swiss Canton of Ticino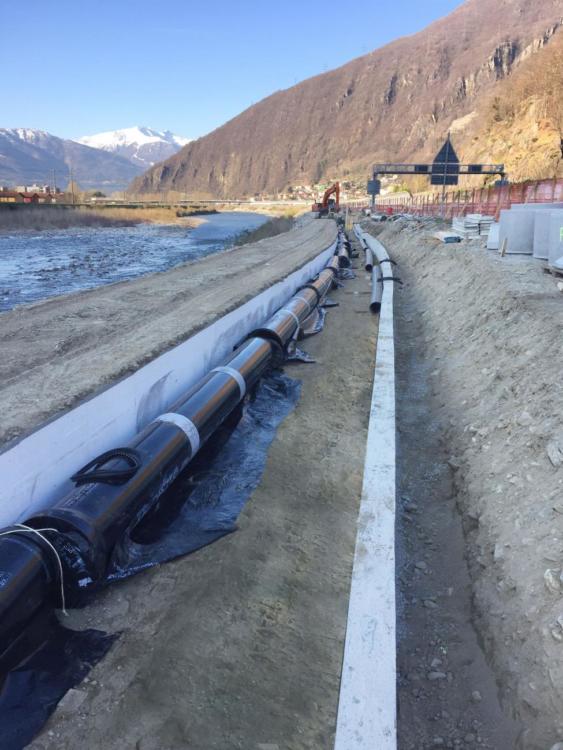 The route of the drinking water pipeline between the Ticino River in the Swiss Canton of the same name and the A2.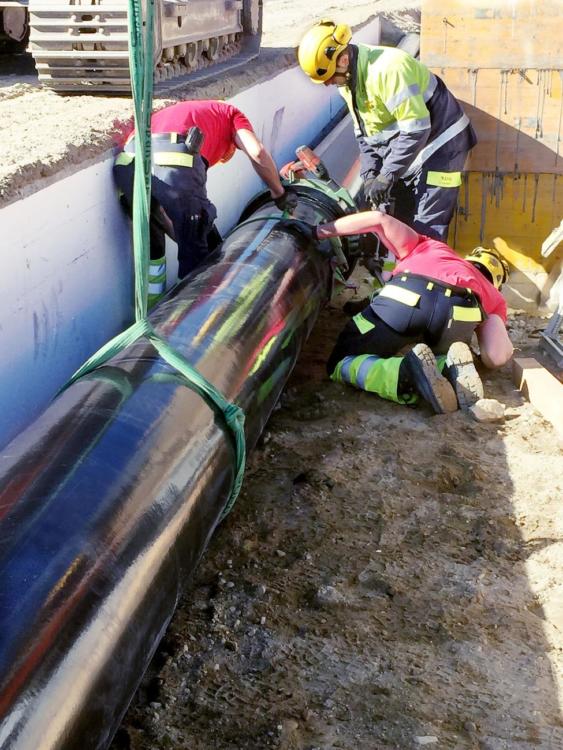 Assembly of a HYDROTIGHT restrained push-in joint
Bellinzona is the capital and, after Lugano, the second largest city in the Canton of Ticino (Switzerland).
For the past 6 years Aziende Municipalizzate Bellinzona AMB, the utility company for the city of Bellinzona, has been implementing the stages of a major project which will ensure a secure, top quality supply of drinking water for the city of Bellinzona and the suburbs of Sementina, Monte Carasso, Gnosca and Gorduno for the coming decades.
The philosophy behind the project is the reliable operation of existing and new productive wells and sources. Facilities with insufficient capacity or those located in densely built-up risk areas are to be abandoned.
Because of this, 5 existing wells close to the football stadium in the centre of Bellinzona will be taken out of operation. The volumes of drinking water lost in this way will be provided by the construction of 2 new wells in a groundwater protection zone in the districts of Gorduno and Gnosca. These new water resources will be integrated into the drinking water distribution network of the participating municipalities.
The total investment for this future-oriented project amounts to more than 20 million CHF. It is planned that this intercommunal water supply system will be put into operation in the middle of 2017.
For years now, AMB Bellinzona has been putting its trust in vonRoll ECOPUR ductile iron pipes with integral polyurethane (PUR) lining to EN 15655 and coating to EN 15189 along with ECOFIT fittings with epoxy coating. Because of the outstanding resistance of the PUR lining to the "soft" water of Ticino and because of the electrically insulating protection system of the PUR coating, ECOPUR pipes are the ideal solution in all installation situations and they offer the highest level of investment protection.
The route of the 5th stage of the pipeline currently under construction with ECOPUR DN 500 ductile iron pipes runs through an in-situ concrete canal alongside the River Ticino for a length of approximately 3 km, parallel to the A2 motorway. The entire section of pipeline is secured with HYDROTIGHT flexible push-in joints.
In the project as a whole, the following types of ECOPUR pipe will be used in the participating communes:
City of Bellinzona: DN 300/400/500 – length 5.8 km

District of Gnosca: DN 100 – length 1.5 km

 District of Gorduno: DN 100/150 – length 0.5 km

Districts of Monte Carasso and Sementina:
–  DN 150/200 – length 1.4 km
–  DN 200/250 – length 1.3 km
auch verfügbar/also available: German