Expansion equalisation on slippery slopes
Ski resort Ehrwalder Alm (Austrian, Tyrol)
In the Ehrwalder Alm ski resort (Austrian Tyrol) various development and extension projects are currently underway. Firstly, the pistes are being extended and consolidated. And secondly the snowmaking equipment is being upgraded with ductile iron pipelines and the well-proven BLS®/VRS®-T restrained joint from the Tiroler Rohre GmbH.
The particular feature of this project is the fact that part of the system of snowmaking pipelines lies in a fault zone. This refers to a slope which is subject to constant movement. In the sections affected, the two parallel snowmaking lines can move with the hillside between two fixed supports, which means that damage to them can be avoided. The pair of fixed supports are located in accessible concrete manholes. At the transition to the longitudinally flexible section of pipeline in the sliding slope area, so-called "expansion compensation" fittings are used. Basically, the expansion compensation fittings resemble standard collars (a flanged socket with two BLS®/VRS®-T push-in joints), but they also have an important difference: the expansion compensation fittings can offset longitudinal expansions of up to 600 mm. In order to ensure a defined direction of movement of the spigot end in the expansion compensation fittings, on one side the two spigot ends at the extremity of the relevant piping section remain longitudinally adjustable without locking. On the other side the expansion compensation fittings are locked against longitudinal forces with BLS®/VRS®-T push-in joints on both the upward and downward extending sections of pipeline.
As usual, between the two manholes there are pipes and fittings in ductile cast iron with restrained BLS®/VRS®-T push-in joints. In addition, for maintenance and repair work, gate valves are inserted before the expansion compensation fittings in each case and these are marked for the purpose of checking length changes in the pipes used in the expansion compensation fittings. The expansion compensation fittings are currently produced in steel as special components. As demand increases, production using the sand-casting process is planned.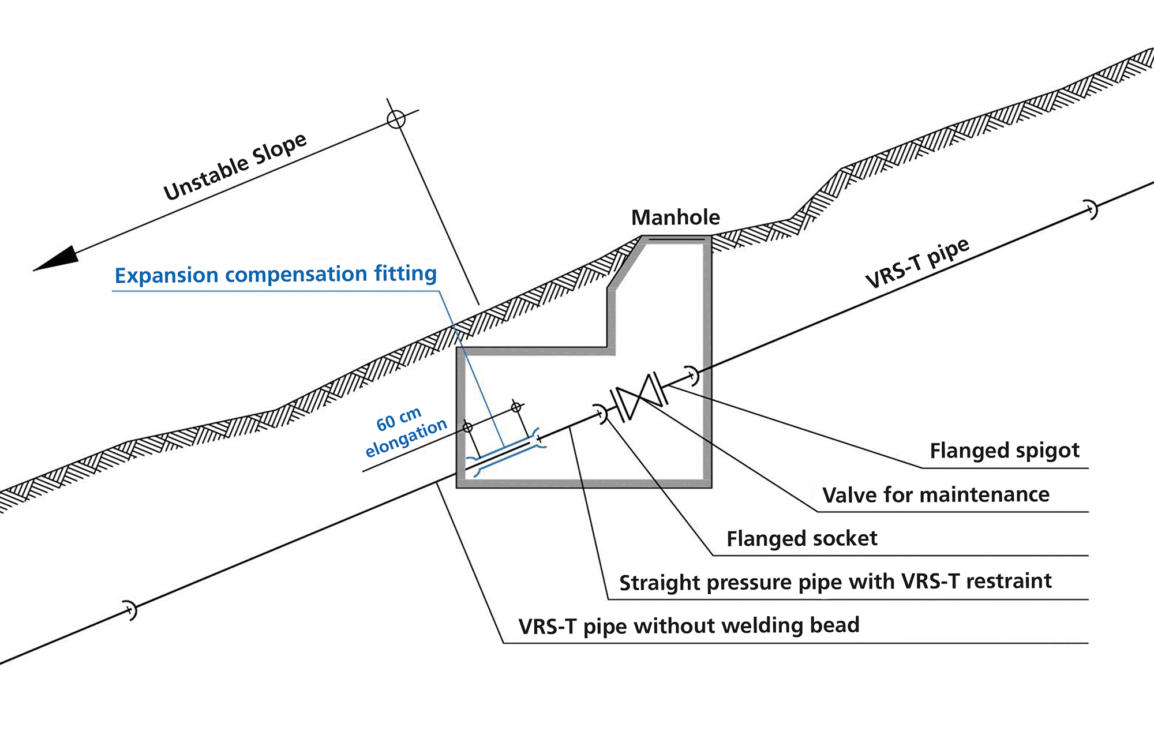 Manhole above the slope with expansion compensation and other construction details consisting of a straight pressure pipe with two welding beads, a flanged socket, a flanged valve for maintenance and a flanged spigot for the connection of ductile iron pipes with BLS®/VRS®-T push-in joints.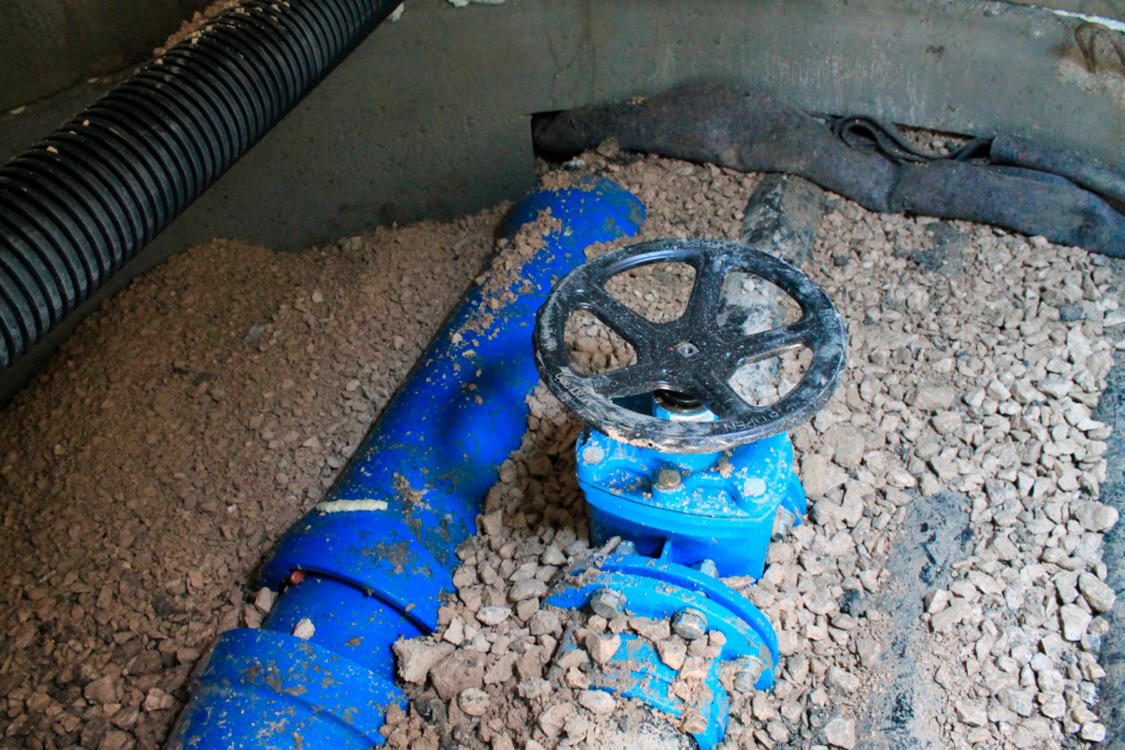 Manhole with fittings and valve
auch verfügbar/also available: German