Cross-border drinking water supply
Joint effort to secure cross-border drinking water supply
The region of Vienna (A), Györ (HU), Bratislava (SK), Sopron (HU) and Eisenstadt (A) are developing dynami-cally socially, economically and in terms of tourism. So that, together, they could secure their water supply, the water supply companies of Northern Burgenland, Central Burgenland and the city of Sopron (HU) together with the Sopron Waterworks have developed the cross-border EU Aqua Burgenland Sopron project which will ensure the supply for around 300,000 people.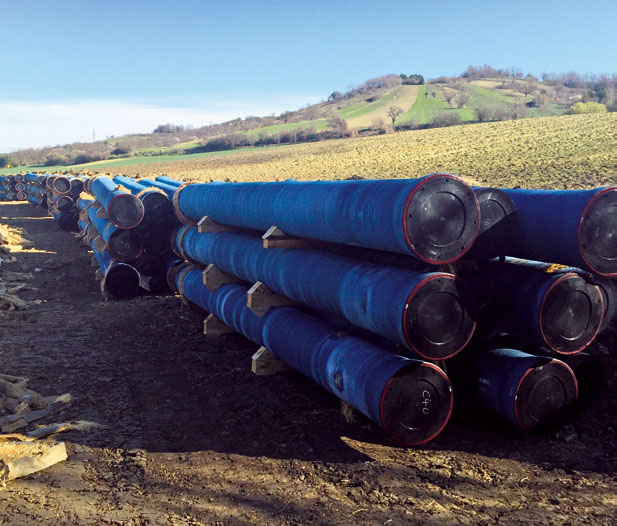 The project was started with the ground breaking ceremony on 06.11.2014 for the installation of the approximately 10 km long section of the transport pipeline from Neudörfl (A) to Rohrbach (near Mattersburg, A). The work was carried out by the companies STRABAG AG from St. Martin and TEERAG-ASDAG Aktiengesellschaft from Parndorf as "ARGE AQUA Burgenland Sopron". Total construction costs will amount to about 17 million euros.
Ductile iron pipes from TRM – Tiroler Rohre GmbH were used with cement mortar or Pur-Longlife coatings and a cement mortar lining in the nominal size range DN 250 to DN 500 as well as VRS®-T and TYTON® push-in joints. The cross-border project is being financially supported on the Austrian side with funds from the European Union via the European Investment Bank. The completion of this important section of the project is planned for the end of 2017.
auch verfügbar/also available: German