A "Golden Manhole Cover" for the inspection of the Mosel culvert
Three small Golden Manhole Covers were presented to their new proud owners Tycho Kopperschmidt (Technische Betriebe Solingen), Frank Große (Zweckverband JenaWasser) and Hans-Jörg Schulz (Eigenbetrieb Stadtentwässerung Koblenz) by the IKT – Institute for Underground Infrastructure in recognition of their outstanding achievements.
For the 15th time already, IKT has awarded the Golden Manhole Cover, the "Oscar" of the sewer industry, to special achievements of individual employees of sewer network operators such as municipal sewers, civil engineering offices and municipal utilities. The industry award is an example of what technologies, what economic dimensions and what water protection services are behind a waste water discharge that is taken for granted.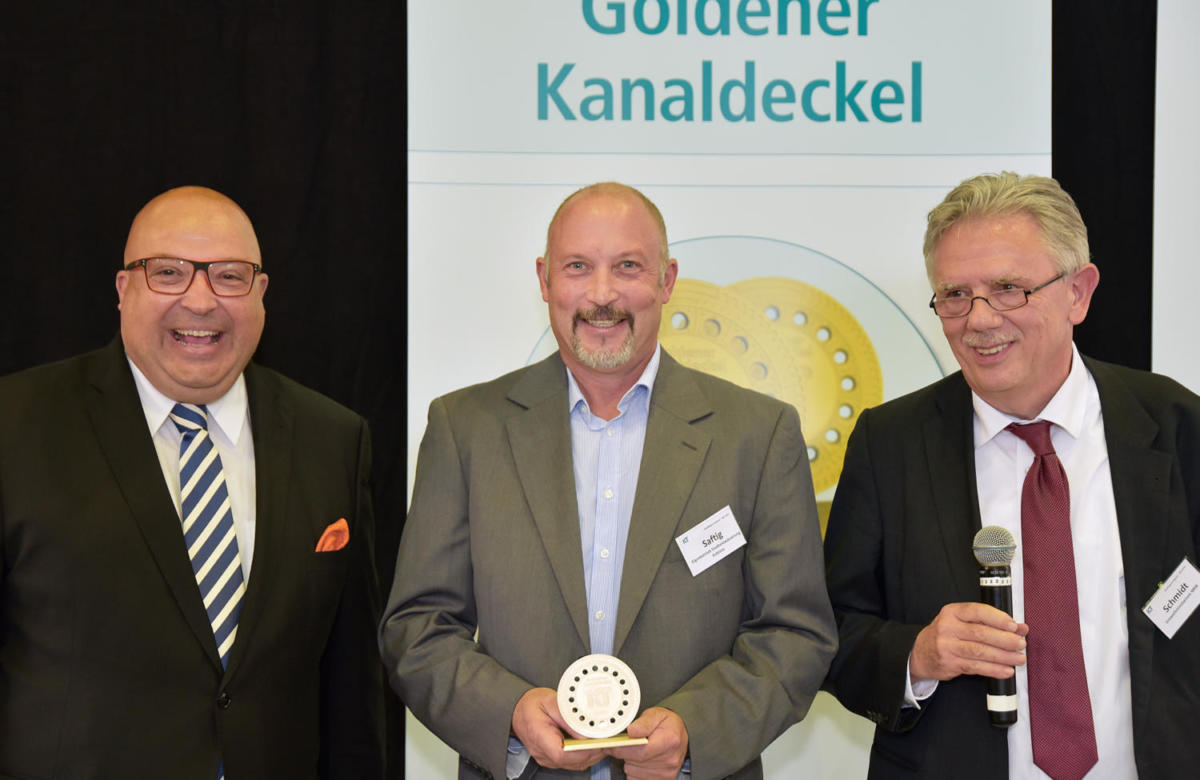 Golden manhole cover 2019 – 3rd place: Hans-Jörg Schulz, Eigenbetrieb Stadtentwässerung Koblenz, handed over to his colleague Ralf Saftig.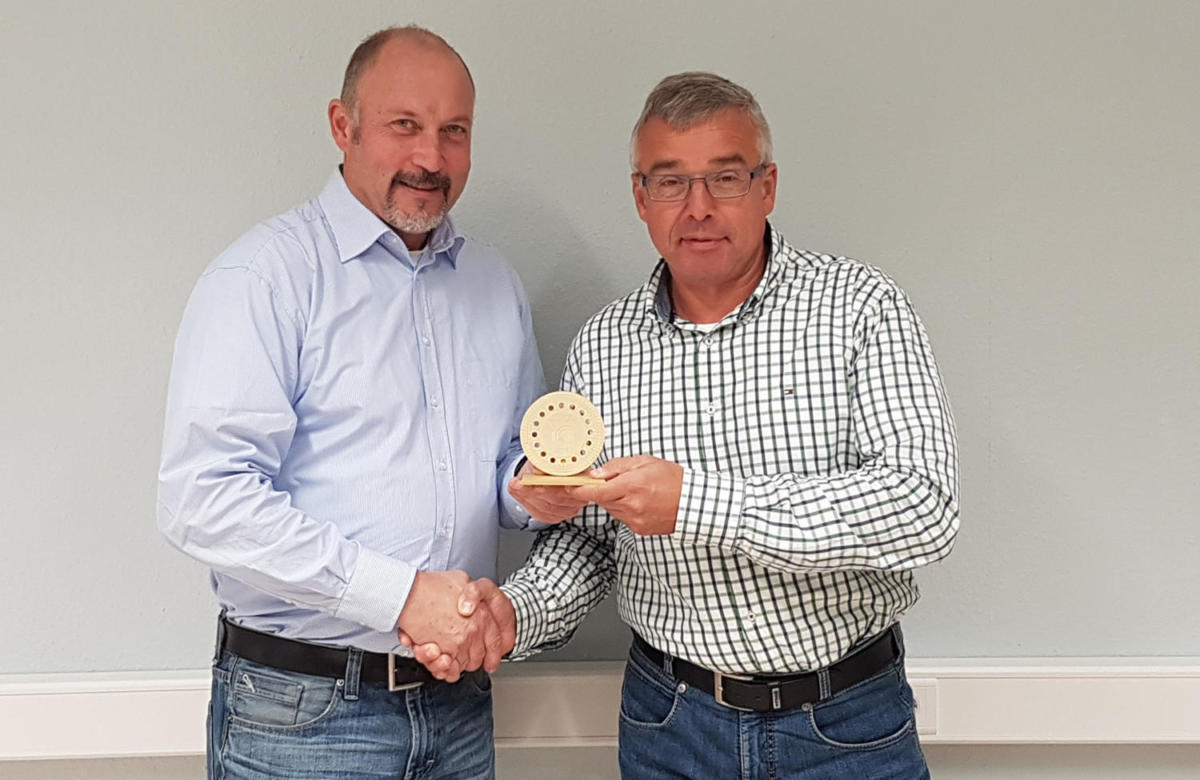 Ralf Saftig hands over the Golden Manhole Cover to Hans-Jörg Schulz in Koblenz.
3rd award for Hans-Jörg Schulz, 3rd award for ductile cast iron pipes
The third "Golden Manhole Cover 2019" is awarded to Hans-Jörg Schulz from the Eigenbetrieb Stadtentwässerung in Koblenz. Because H.-J. Schulz is responsible for the successful implementation of the highly complex "Inspection of the Mosel culvert after 44 years of operation" (see also the annual journal 53 DUCTILE IRON PIPE SYSTEMS, 2019). The culvert is made of two wastewater pipelines DN 800 and DN 1250 made of ductile cast iron.
The inspection became necessary because in Rheinland-Palatinate State a proof of tightness is required for such a culvert. The purpose of the inspection was to provide this proof and, if necessary, to ensure further operation with a renovation. However, the Mosel culvert had been in operation for 44 years without any inspection and maintenance. And it was not without reason that no one had dared to undertake this venture before.
Limiting conditions and requirements
Hans-Jörg Schulz, entrusted with the solution of this delicate task, first defined the limiting conditions with which a suitable inspection procedure had to cope. It quickly became clear that an optical inspection – including the necessary emptying of the culvert – was hardly feasible. After 44 years of operation, Schulz did not want to expose the Mosel culvert to the interplay of buoyancy and supporting forces. After all, only one method proved to be practicable for this individual case. But Schulz, in cooperation with the supplier, first had to adapt this to the specific task and the currently applicable standards.
And: the basic prerequisite for carrying out the SLOFEC technology, which uses eddy current to inspect pipes from the inside for corrosion, are absolutely clean pipes. The non-destructive inspection of the pipe walls with the SLOFEC Pipe Scanner could only be carried out after demanding cleaning. And the results surprised everyone.
The two culvert pipelines made of ductile cast iron showed only slight corrosion along the whole of their outside. Conclusion: no need for renovation – not even after 44 years of continuous operation under sometimes difficult conditions with strong currents and floods!
Pointing the way
Hans-Jörg Schulz has adapted an existing technology for his special case in an innovative way and thus ventured something new. He managed the project confidently and with great skill, accompanied it with enormous technical knowledge, high personal commitment and a lot of discipline and completed it successfully. And he and all those involved have thus shown many municipalities a practicable way to determine the condition of their culverts, which were previously regarded as uninspectable.
Team member Ralf Saftig was handed over the award because Hans-Jörg Schulz himself was unable to attend the award ceremony.